6 Reasons Why Rattan Furniture is So Popular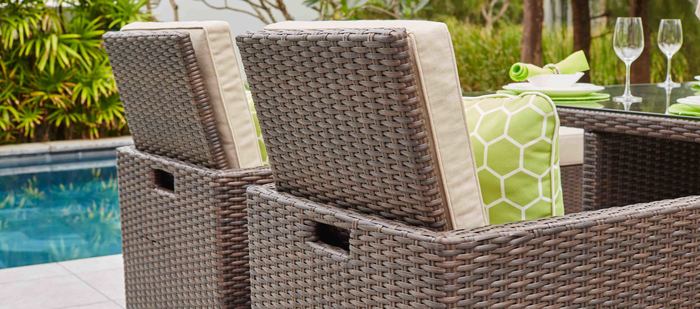 When it comes to outdoor furniture, there are plenty of options available to suit every taste. However, recently, no other choice appears to be as favoured as that of rattan furniture.
Rattan outdoor furniture has quickly found itself to be one of the hottest trends in the world of outdoor décor and design, and you won't have to look far to see it gracing gardens and outdoor venues across the UK.
We've all seen the gorgeous patio sets in the gardens of friends and family, but just why are they so in demand? From durability to style, there are plenty of reasons why rattan is such a much-loved choice.
Stylish design - The classic woven rattan texture is instantly recognisable, highly sophisticated and guaranteed to look on-trend for years to come. Perfectly blending country chic and modern minimalism, the design effortlessly adds a touch of elegance to any garden or outdoor space.

It also comes in a wide range of styles to fit any purpose. Not only are there standard sofa and dining sets

, you'll also find everything from coffee tables to

loungers and day beds.

On top of this, designers are continually reimagining and improving various accessories to meet client demands, making tasteful developments that set this furniture apart. Built-in ice buckets, fire pits

and patio heaters have all become must-have items, with rattan furniture constantly adapting to modern needs.

Maximum comfort - When you're looking for outdoor furniture, one thing you want to ensure is that it is comfortable. It needs to add to the relaxing garden experience.

Whether it's al fresco dining or casual outdoor drinks, rattan furniture is durable, sturdy and comfortable enough that you can pleasantly sit for long periods without longing for your indoor sofa. As well as this, most sets feature padded cushions that only add to the overall comfort.
Weatherproof - With over 160 days rain-days each year, UK gardens have to be ready for anything. Our summers are often spent jumping from heatwave to rain in a matter of hours, meaning choosing the right type of outdoor furniture can be a real headache.

Rattan furniture has the benefit of being able to withstand all types of weather, including typical British showers. As such, you don't have the hassle of rushing outdoors to put away your rattan garden furniture during a surprise rainstorm.

On top of being waterproof, resin weave rattan furniture is also resistant to UV rays so you shouldn't expect to see much fading or wear and tear in warmer weather.

In addition to all of this, rattan's exceptionally high-quality HDPE protects the furniture from both frost damage and moss growth, meaning you won't need to bring it in during the winter months either.
Low maintenance - When choosing which items you want to feature in your outdoor space, you'll have to consider the amount of time you'll need to take care of the furniture you choose. In particular, wooden furniture will require regular polishing or repair, which can become quite expensive and time-consuming.

Being a form of wicker, rattan furniture is quite simple to manage and only requires a quick wipe down with water or a mild detergent to prevent permanent stains or other issues.

It's also reasonably easy to pick up and move if you have a change of heart over the layout of your outdoor setup. Being fairly lightweight, you won't have to waste too much time or energy rearranging your furniture to get it just the way you like it.
Economical - Although it is much more lightweight than most other types of furniture, don't be fooled into thinking rattan furniture is flimsy or prone to a short life. With an average lifespan of around 10-20 years, you'll be getting plenty of bang for your buck.

With most people often hesitant to invest in premium outdoor furniture as they're concerned they won't get as much use out of it as they'd like, rattan offers the perfect solution. Thanks to its all-weather performance and sturdy build, it provides a long-term investment that will last for years to come.
Suitable both indoor and outdoor - Rattan furniture is well known as the perfect option for outdoor use. However, many people are now opting to bring their furniture indoors to create a more contemporary look.

The superb material means it works just as well indoors with the natural colours of grey, black or natural browns making for a calm, elegant, and timeless statement.

Conservatories especially benefit from this look as they are the gateway between your home and the outdoors. With the natural fibres of rattan adding a cosy and casual tone, you can take advantage of the outdoor look, even when the weather isn't as sunny as you'd hope.
What to consider before buying rattan furniture
Everyone has had their own bad experiences when it comes to buying furniture. That's why it's best to consider some crucial factors before purchasing your dream rattan dining sets, sofas and sun loungers.
Perhaps the most important thing to consider is the cost, including whether the item you want is within your price range and if the furniture justifies its price tag. Most of us are constrained by a budget, but it is always wise to be wary of cheaper furniture that won't last as this will only leave you needing to buy another replacement set.
The quality of the item is also something you will want to be aware of before purchase. Make sure it is UV stabilised so that it withstands the sun's glare and that the frames won't rust over time.
Lastly, ask yourself if the reviews do the item justice? Customer testimonials act as a reliable recommendation and are perhaps the best way to learn about the quality of the item or service you're looking to buy.
How to look after rattan furniture
Rattan furniture is incredibly sturdy and promises a long life despite its competitive price point. However, it never hurts to execute some extra care and attention.
If you want to clean your rattan garden sets, use soapy water to wash away any dirt and leave to air dry. You can also use a brush to clean away general garden debris like soil.
To get the absolute most out of your furniture, consider investing in some covers to add additional protection against dust, rain and general wear and tear. With the help of your covers, there will be less clean up after particularly bad weather, and it will prevent the formation of potential stains.
Find your perfect rattan furniture
Ready to invest in your dream rattan garden set? At Moda, we specialise in high-quality rattan furniture. From comfortable sun loungers and sofa sets to fire pits and stone tables, we have a wide variety of options to suit every taste, space and need. All our products come with a 7-year guarantee for complete peace of mind.