Add Winter Warmers to Your Outdoor Space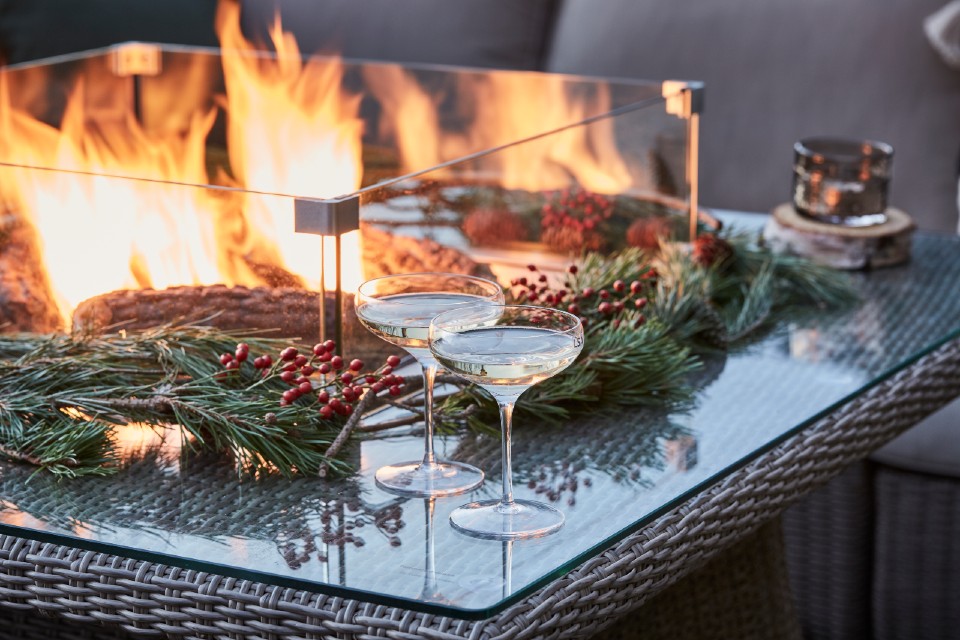 There is no reason why our gardens should not be enjoyed during the winter months. Thanks to outdoor heaters, fire pits and lighting, we can now sit out in the fresh winter air and relax in the comfort of our gardens. Incorporating fire pits is an effective way to transport the cosy winter feel of a campfire into your garden. Not only do they keep you and your loved ones warm during the colder evenings, but they also act as a dramatic focal point in garden spaces to create a welcoming atmosphere.
Offering all-encompassing warmth and ambience, adding outdoor heaters to the garden allows for an inviting feel, making it an extension of your home. During 2020, our gardens received the same amount of design interest as our homes, especially when paired with softer accessories, such as cushions and blankets. Therefore, what do you need to know before buying an outdoor heater or fire pit? And how can outdoor heaters make our gardens suitable for Christmas entertaining? Fortunately, this buying guide has everything that you need to know.
Outdoor heaters- gas or charcoal?
Choosing the fuel for your outdoor heater or fire pit is mainly dependent on your personal preference and the style of your garden, however, there are benefits and drawbacks of each fuel source. So, take the time to think about what would be right for you and your garden.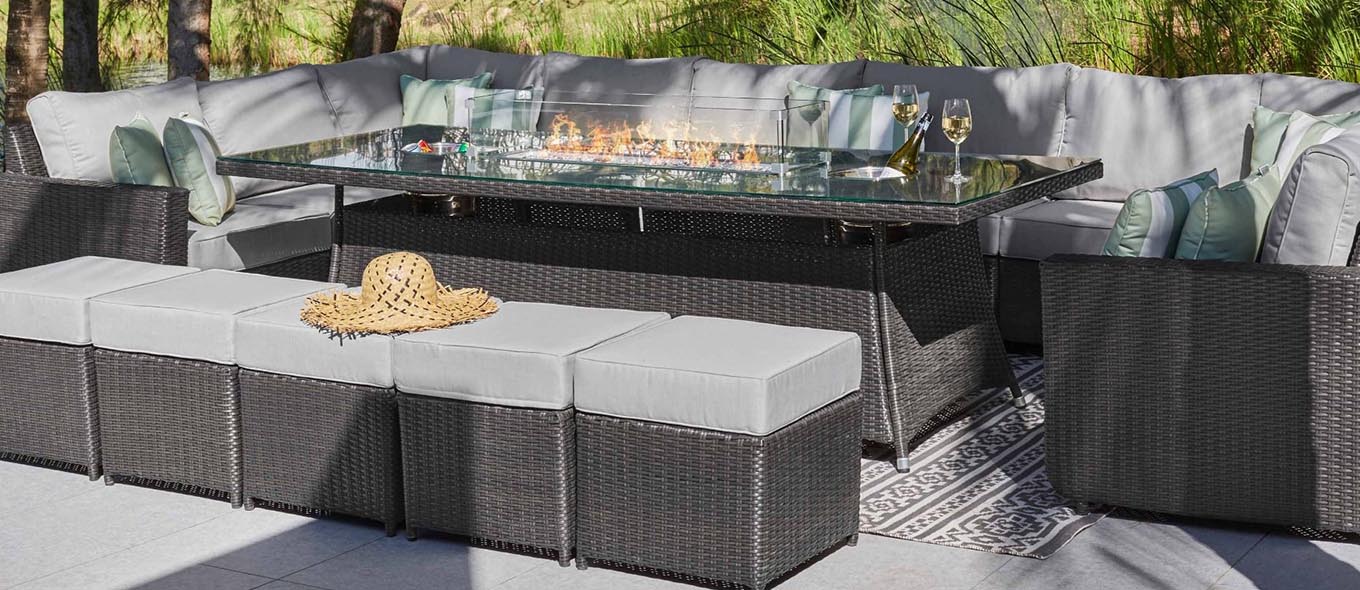 Electric outdoor heaters
As they are fueled by electricity, the heaters will heat up very quickly to provide efficient and thorough warmth to your garden. However, the key component of these electric heaters is that they must be plugged into work and require either an outlet in your garden or an extension cord through your garden.
Depending on the size and layout of your garden, the heater could be placed in a cosy corner to facilitate being plugged into an outlet, or it could be the centrepiece of the space by using an extension cord. However, do not forget to consider the potential health and safety risks that an extension cord can bring, especially with younger children, or pets.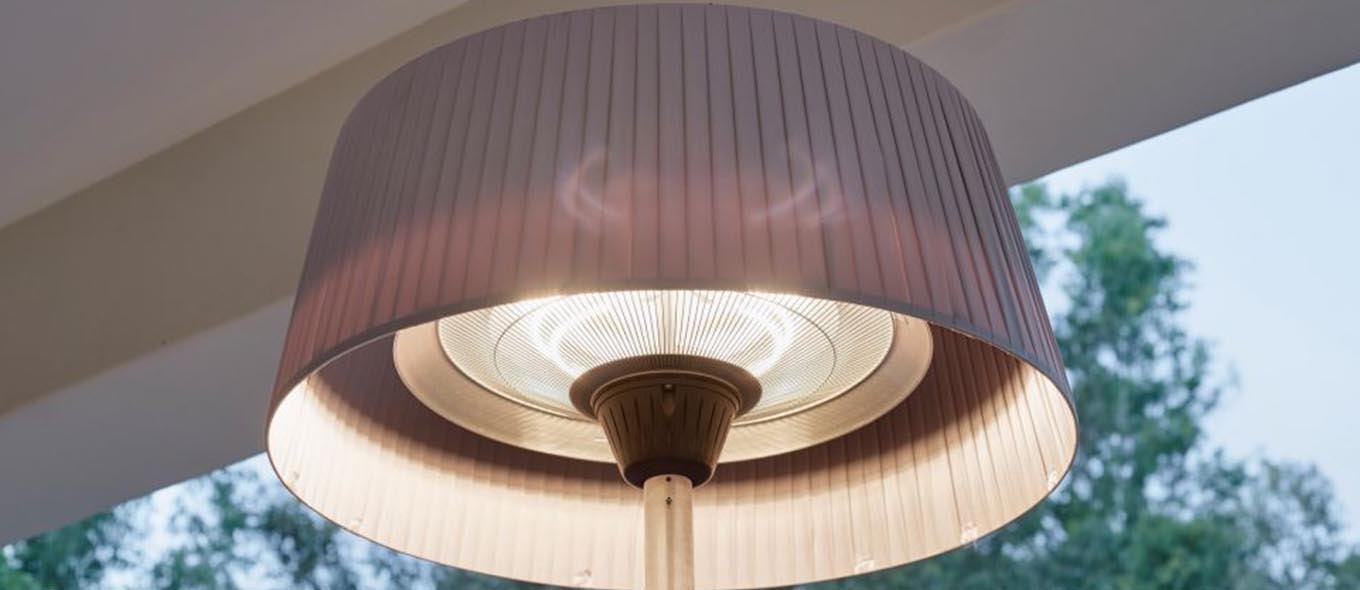 Gas outdoor heaters
There are two different options that you could take for gas heaters: natural gas and propane gas heaters. Whilst both sources have various benefits and drawbacks, both offer a classically aesthetic flame effect which is often sought after by customers.
The natural gas heaters tend to be more popular with customers, as they are efficient and easy to run, require little maintenance and offer the flame-effect aesthetic. However, bear in mind that they may require assistance to get the heater set up in your garden. Comparatively, whilst propane heaters are easier to set up than natural gas heaters, they do require a bit more day-to-day maintenance as the gas tank needs to be replaced after it runs out.

Charcoal fire pits
As they run on charcoal, these fire pits do not require an electrical source or to be hooked up to a gas tank, meaning that they are easy to move and easy to set up. They offer you the flexibility to be placed anywhere in your garden to add a cosy, warm feel to your space. While charcoal fire pits offer numerous benefits, such as being easy to use and operate, they do require a good cleaning in between uses which could be time-consuming. Alternatively, some fire pits can also be used with burning wood, or a mixture of wood and charcoal, making it easier to clean up after use and more cost-effective.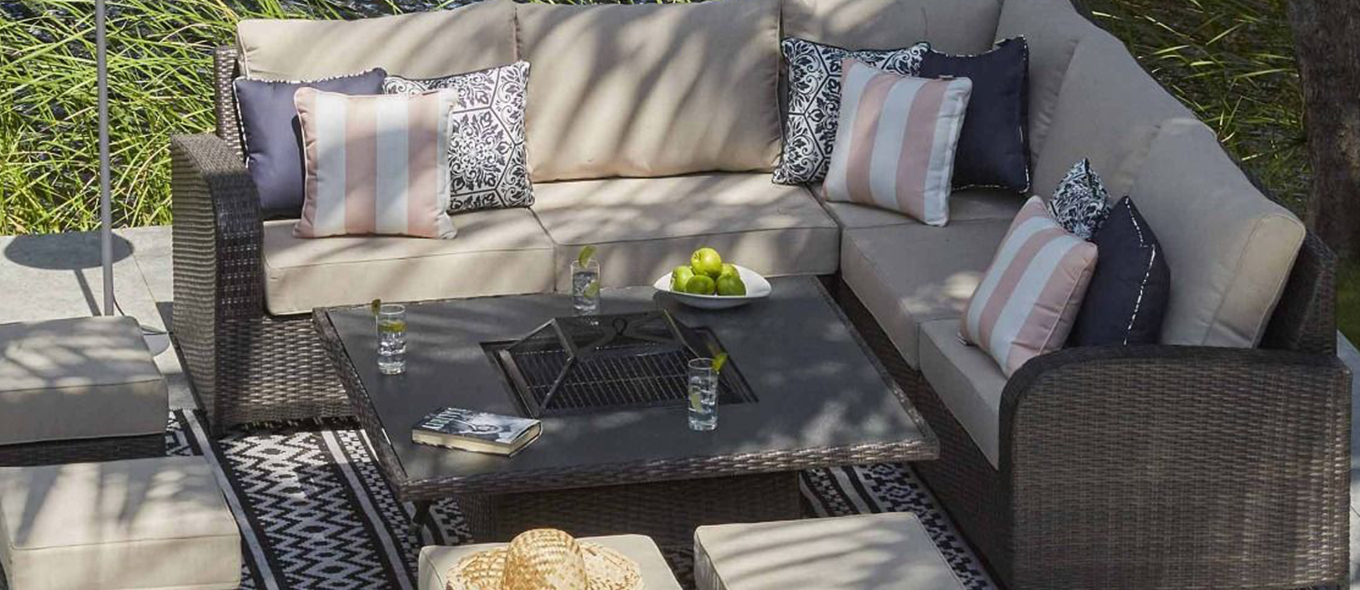 Style and set up of your outdoor heater
Depending on how often you will be using your outdoor space, and what you will be using it for, you can utilise your outdoor heaters for entertaining, dinners with loved ones or just sitting out and reading a book.
Fire pits are often the go-to kind of outdoor heating. Offering a warm glow to the garden, fire pits act as a focal point to draw people in for the evening. Fire pits are also safer than campfires as they are specifically designed to contain the fire and prevent it from spreading, whilst also adding a cosy aesthetic. All built-in gas fire pits have heat adjustable flames to create the perfect ambience for a long evening spent outdoors in the winter sunshine, allowing for entertaining to last long into the night.
Standalone heaters are also a very popular type of outdoor heater because they are tall and thin but very effective to warm up your outdoor space. This means that they are portable and easily fit seamlessly into a corner or spaced around the garden in patios or decks. They also can come in different styles, for example as an eye-catching pyramid heater offering warmth in all directions, or a lamp style outdoor heater to fit in with the aesthetic of your garden.

Accessories - barbecue grills
The benefits can go beyond just warmth, before making a decision consider the extra additions available to make your outdoor space even more versatile?
Moda Furnishings' fire pits offer additional add-ins, such as a griddle plate which slots over your firepit for seamless barbecuing. The griddles are available as one singular or as a pair, meaning that you can find the right barbecuing equipment for your firepit.
Or, for a more authentic feel for your firepit, why not add lava rock or ceramic wood for the base?
Whether you choose charcoal or gas fuel, stand-alone or built-in, Moda Furnishings has a luxury fire pit to create an intimate, cosy feeling whilst entertaining loved ones.
At the forefront of design, Moda Furnishings' creates luxury furniture that prioritises both comfort and quality. Moda Furnishings prides itself on functionality whilst pushing the boundaries on a traditional design.