Best Holiday Destinations You Can Recreate In Your Garden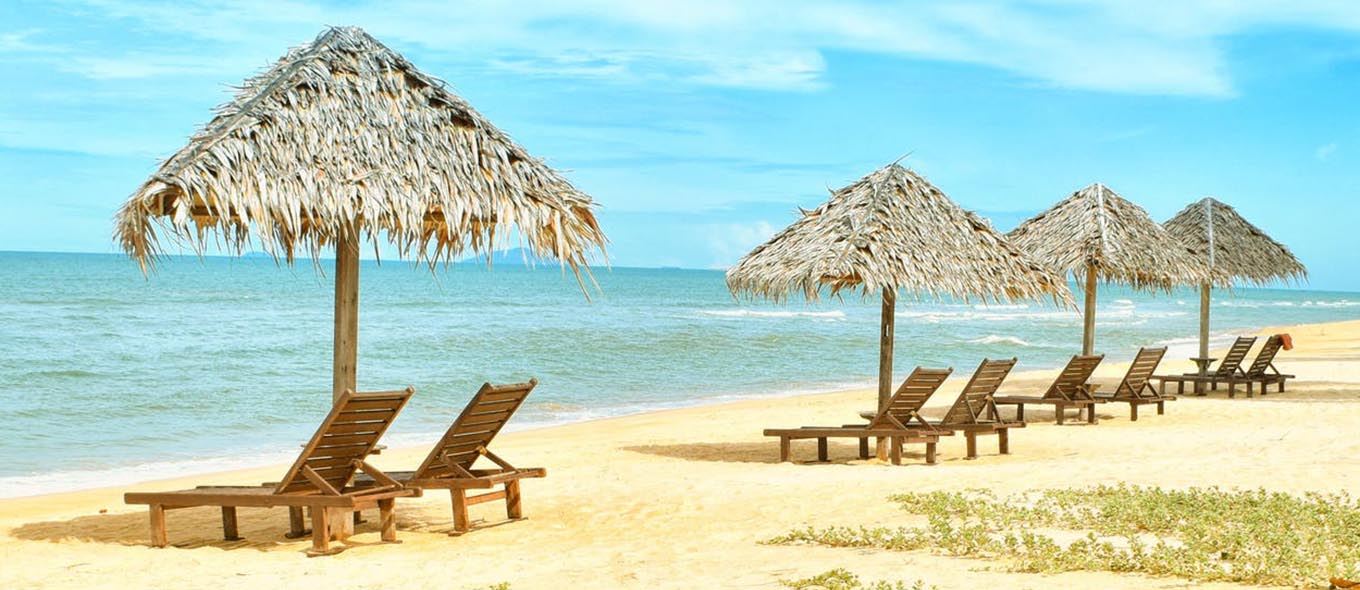 Even though you probably had to call off your holiday plans this summer, it is still possible to enjoy your dream destination without leaving your place. Your house might seem a bit small after so much time spent indoors, but your garden continues to have a lot of untapped potentials and it could become the perfect holiday oasis. With the help of clever decorating ideas, you could feel like you're travelling to a destination of your choice every time you step outside.
To achieve this, remember that everything lies in the details. You simply choose the place where you'd love to travel and you try to recreate that same atmosphere in your outdoor space.
Here are our top 5 holiday destinations you can enjoy in the comfort of your garden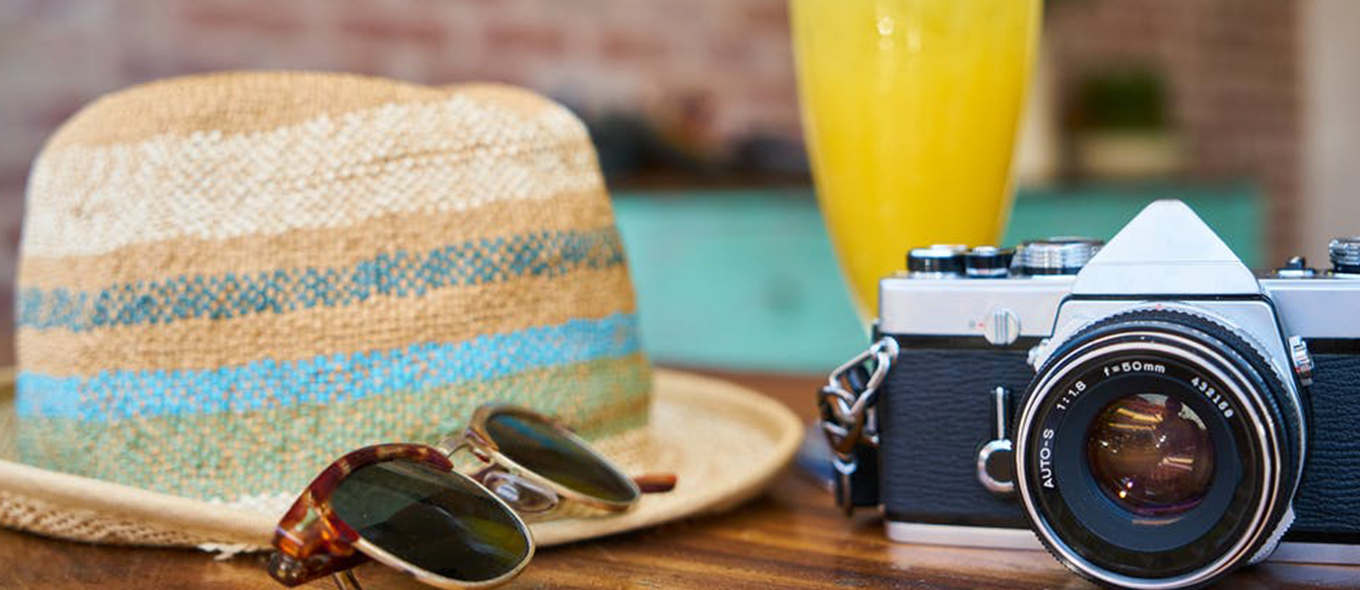 Turkish nights
With oriental vibes and a stunning mix between Ottoman, Byzantine, Genoese and Avant-Garde architecture, Turkey is a perfect destination not just for its landscape, but for a chance to spoil all your senses, as the Grand Bazaar is a wonderful display of spices, textiles, gems and other authentic goods.
To bring the Turkish flair to your garden, start with a brown-sand colour as a base. Then, when choosing your accessories, be bold and go for items which are ornate and rich in detail, and ideally have patterns. Ultimately, you'll want to recreate a comfortable, inviting ambience, so add lavish cushions, table runners and outdoor rugs with deep rich colours, ceramics with intricate ornaments, whimsical copper objects for a touch of rustic glam and exotic lamps. What better way to enjoy a Turkish night then sitting by the fire and drinking traditional coffee or tea, accompanied by gourmet treats like Turkish delight or baklava? For this, splurge on a sofa with a stone gas fire pit which comes with a coffee table. Don't forget to add music to enhance the experience and consider ending the day with an at-home Hammam ritual!
If you have an outside patio, you can decorate this with blue and turquoise tiles. For the final touch, you can plant oriental spices like cumin and thyme, and Turkish flowers such as lilies, dahlias or irises.

A Greek aesthetic
The timeless Grecian architecture is minimalist, elegant, functional and astonishing. It's a design style easy to replicate, as all you have to do is add splashes of blue and white throughout your outdoor space. While the inflexions of varying blue tones, from pale azure to turquoise and navy blue, symbolise the crystal waters and the endless sky, the white will remind you of the clouds and waves. For this, your outdoor sofa and chairs should be refined, with textured fabrics, in plain white or light beige, so you can add blue accessories here and there. For example, try including blue-coloured cushions, plate sets or even speakers.
To emphasize the use of natural materials, typical for this look, introduce stone arrangements to your garden, and if you'd like to make a statement, consider including decorative planter statues and antique oil jars, as these will top off the atmosphere you're looking for.
But we should not forget that Greece is also a Mediterranean country. To honour this, include earthy tones like browns and deep orange for a warm and welcoming feeling, and grow a herb garden with basil, oregano and rosemary.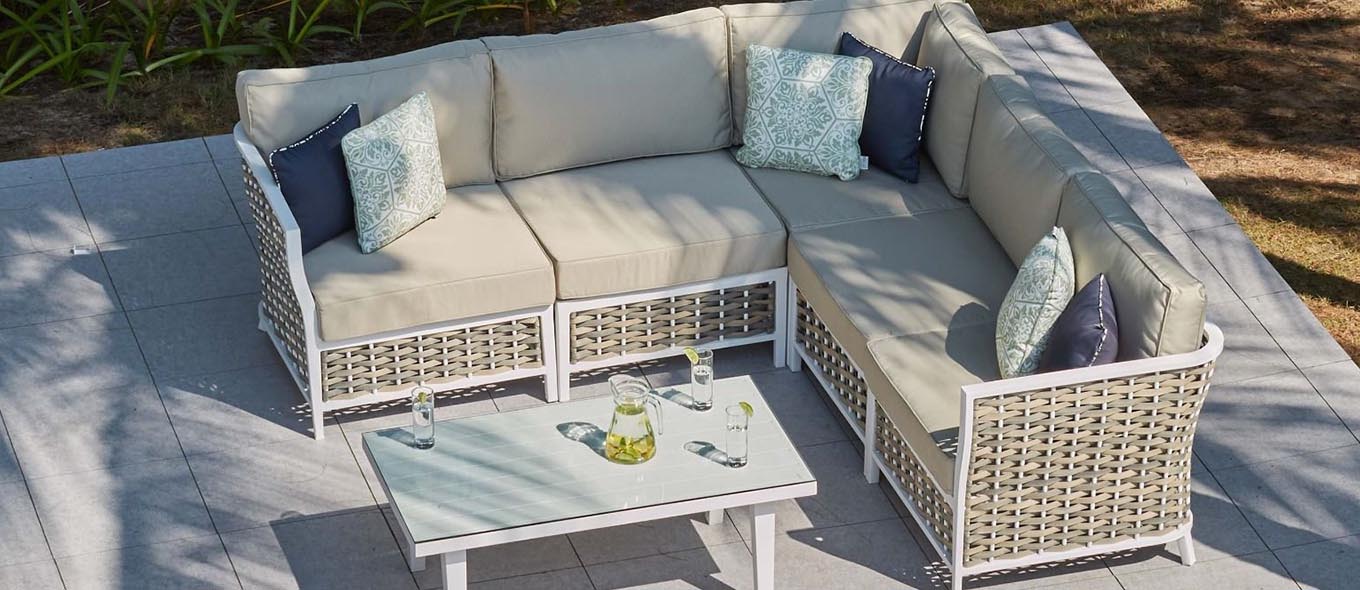 A little taste of the tropics
Situated in the Canary Islands, Tenerife is an exotic place which strikes the right balance between relaxing at the pool and enjoying the nightlife. Recreating this vibe in your own garden will give you the perfect excuse for relaxed siestas, colourful parties and quality family time.
For starters, make sure you have sun loungers, reclining sofa chairs or daybeds ready to be used by the pool, while the sun is still warm. To create an entertaining atmosphere and add a touch of glamour to any al-fresco occasion, keep a drinks trolley nearby.
Tenerife is also known for its vivid panorama with white-washed exteriors and pastel-coloured houses. You can replicate this in your garden by going for colourful accessories such as

scatter cushions

in pink, green or red. Nonetheless, you can include a part of Tenerife's natural landscape as well so go for Canary specific plants such as the orchid tree, hibiscus, or the bird of paradise.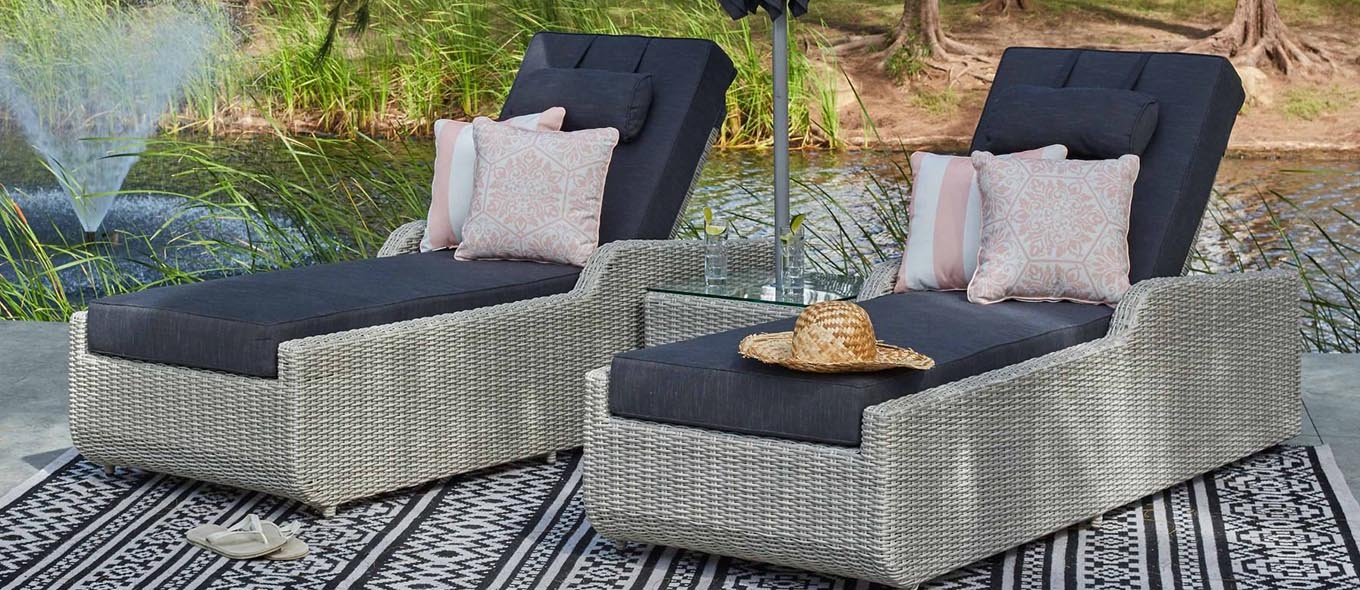 Folk art
Mexico is a destination hard to forget thanks to its folk art, rustic accents and vibrant colours. To Evoque its style, you can use handcrafted ornaments and wooden carvings in your garden. Go for round shapes when you choose your garden furniture and accessories. Pottery items are very popular there too, so don't hold back from purchasing clay tiles, dishware, platters and trays.
One very special city in Mexico is Izamal, which, besides its Mayan ruins, stands out because all the buildings are painted yellow. Consider introducing more sun to your outdoor space by opting for a white base and adding powerful yellow accessories.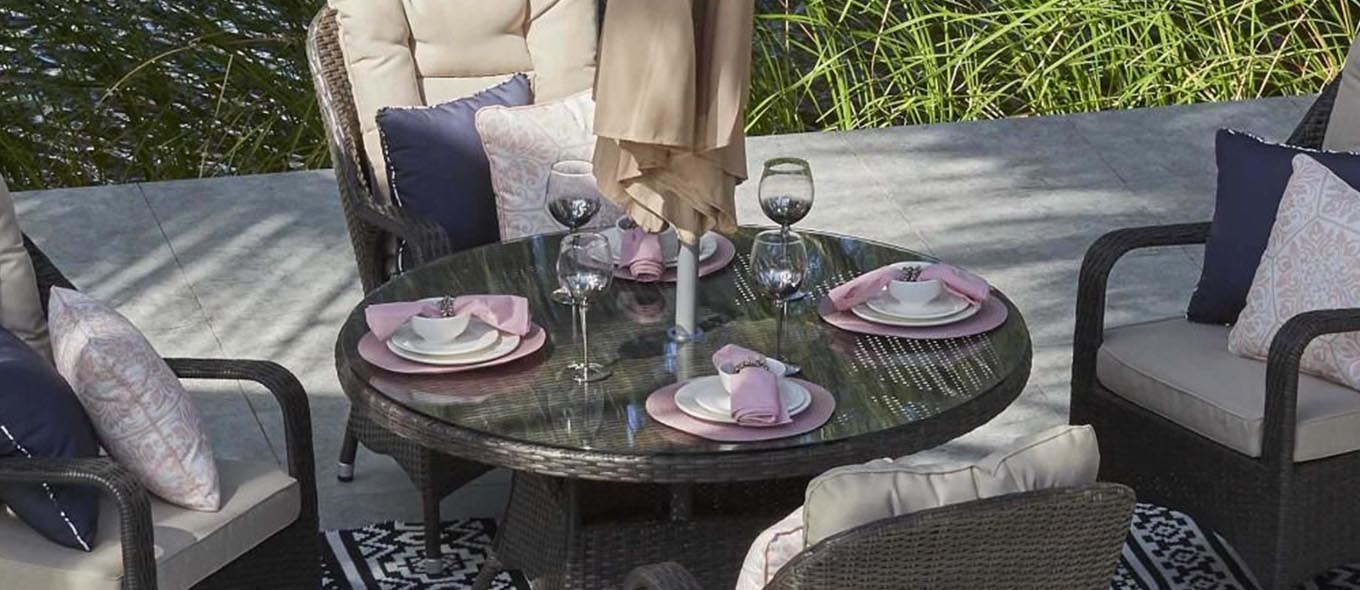 Coastal resort
Although a trip to Côte d'Azur isn't encouraged at the moment, you can still bring the French Riviera in your garden by creating a chic, relaxing, fresh, and elegant environment. This style is a mix of bohemian style and Art Deco, which means that you should mix vintage with new, consider braided natural fibres for your furniture, and sophisticated prints for your accessories. A rattan outdoor sofa checks all the boxes, and you can also have a swing chair if you are looking for that extra oomph. Always favour white and gold tones when you start decorating, as these will accentuate the luxurious feel of the space, as well as fresh flower bouquets picket directly from your garden. But don't forget: it's all about being effortlessly chic so make sure the end result doesn't look too perfect or curated.