Garden Furniture Storage Ideas: How To Make The Most Of Your Outdoor Space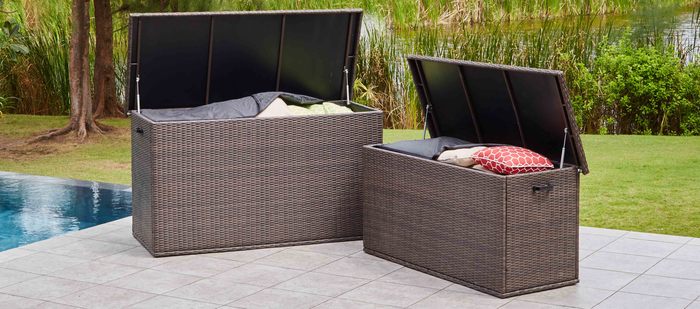 Not everyone has a big garden with unlimited space which is why you need to be smart with how you store things. Even if you do have a big garden, clutter can make your garden feel unorganised and overwhelming, which is why you need some good garden furniture storage ideas. Here's how to make the most of your outdoor storage space.
Make the most of storage boxes
Storage boxes are ideal for keeping delicate items such as scatter cushions safe when not in use. One of the worries many people have about storage boxes is that they might ruin the aesthetic of the garden, but the matching rattan storage boxes blend in seamlessly with the rest of your rattan furniture. The rattan storage boxes come in several shades of brown, grey, and black.
The large matching rattan storage box is a best seller due to the large amount of space it offers, but the smaller storage boxes are efficient too. They can double as a space to leave drinks and plates while you're enjoying some sun in the garden. If you don't like the rattan storage boxes, then the sky storage boxes may be for you. The sleek white lines brings some brightness in.
Corner Sofa
If you're tight for space, or simply want to leave the center of your garden open then a corner sofa may be a better option than a regular sofa.
Corner sofa's effectively use the space already existing in your garden by tucking into your wall or hedge. The dining table can nestle into the space created by the sofa which leaves the rest of your garden free for storing other pieces of furniture, lounging on a sunbed or playing with the dog.
Try Combo Items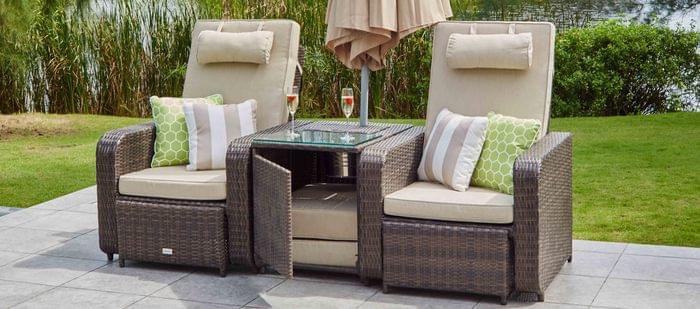 Another way to make the most of your outdoor storage space is to get items that have more than on function. For example, rather than getting a sofa and sunlounger separately, of the most useful garden furniture storage ideas is to get items with double-uses.
You can get a sofa and sun lounger combo to save on space. This set functions as a four-seater sofa, but can be pulled apart to double as two sun loungers. As you won't be using a sofa and the sun loungers at the same time, this item saves on space!
What's better than an item with two functions? An item with three! The Allegro Reclining sofa chair, daybed or sun lounger functions as three separate items all in one piece of furniture. The set comes with a small center table with space for an ice bucket, but can also store the footstool cushions when they're not being used. To make this set even more compact, the footstools can be tucked underneath the sofa if you'd like to sit upright.
Cubo Dining sets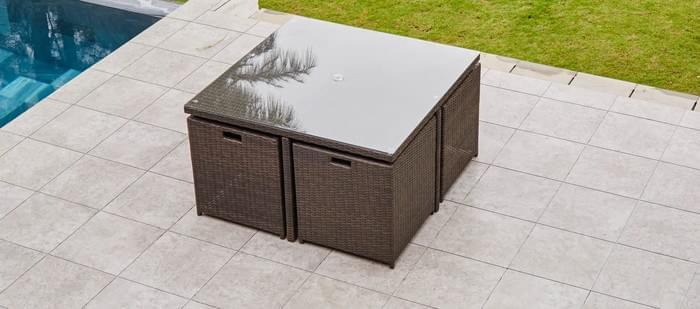 Many outdoor dining sets can be on the larger side, but not everyone has the room for a long table which is what makes the cubo sets so appealing. The Cubo 4 set can seat up to eight people, but the table and chairs are still compact which is more efficient in terms of space. This set helps you make the most of your outdoor storage space as the four cubes can be tucked underneath the table after eating or when not in use, so you can comfortably seat up to eight guests in a small garden.
Stacking Bar Stools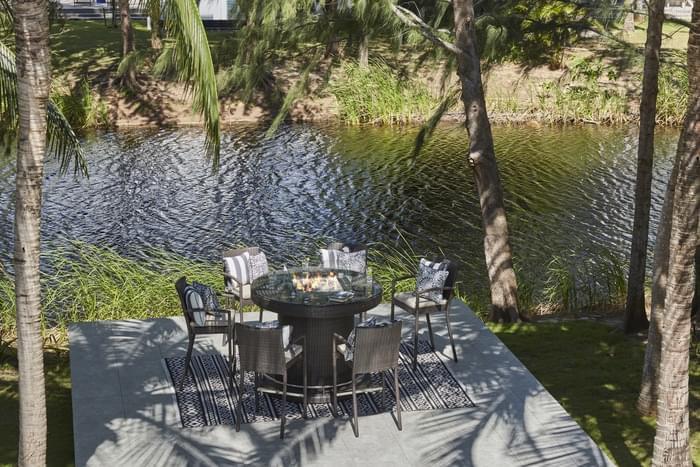 If a Cubo set isn't for you, then a bar set with stacking bar stools might be the perfect fit for your garden. The bar table is smaller than most traditional dining tables, yet still leaves room for to carry drinks. The barstools have armrests that can also be stacked when they're not being used.
This set can seat six people in a small space without feeling cramped3 and is easily stacked away when not in use leaving more room to enjoy festivities in the garden.
Get a griddle for your fire pit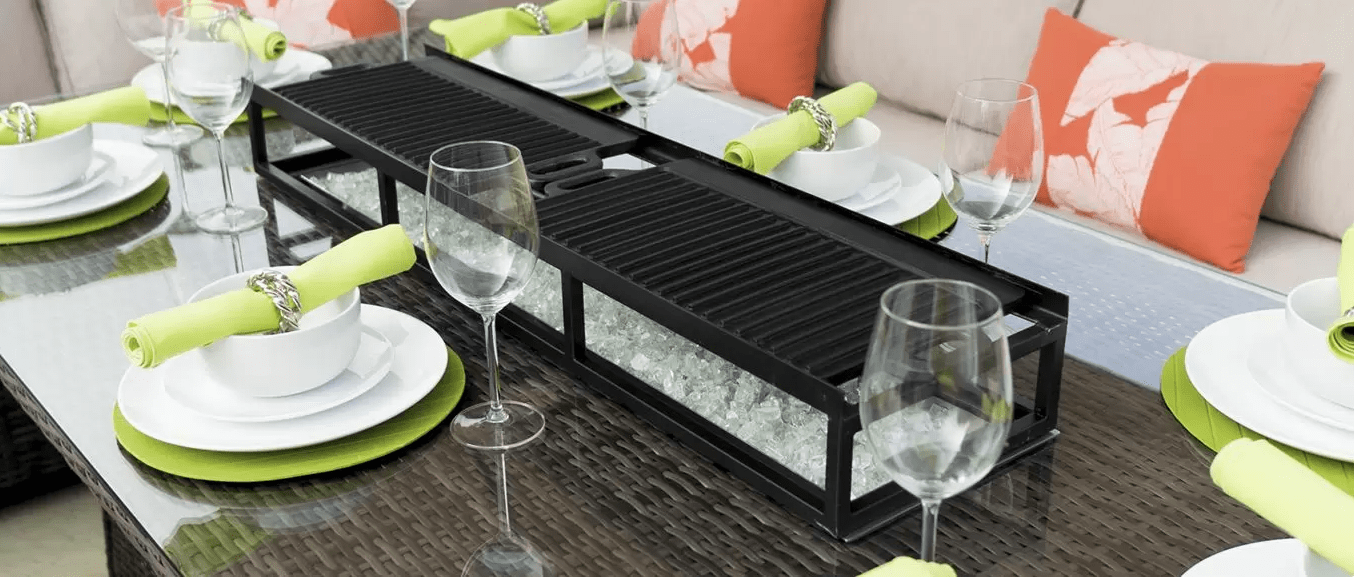 Outdoor heaters are not only useful on cool evenings in the garden, but they're also great for creating a warm campfire-type atmosphere in the garden. However, fire pits and patio heaters can very much be on the larger side, which is why many people opt for small table-top fire pits and outdoor heaters. This garden furniture storage idea also relies on finding another use for an existing item to maximize on space and storage.
To double up on the benefits of a fire pit, you can get a griddle. The rectangle griddle is small enough to fit on your outdoor dining table. The non-stick BBW griddle plate slipes over an existing fire pit, and replaces the need for a conventional barbeque which would take up even more space. If you have a square or circular fire pit instead then the square griddle will be a better fit for your garden.
Use a drinks trolly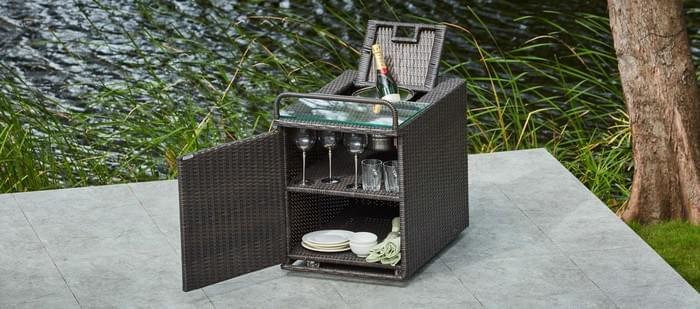 It's very easy for the table to get cluttered with dining ware if you're eating alfresco, which can result in spills or some items getting dropped. A small drinks trolly goes a long way as not only does it hold drinks ontop, but opens up to carry plates and glasses inside for more storage space. The drinks trolly is just over one meter tall and can be rolled into storage in the shed once the evening is over, or even fit into the large rattan storage boxes.
Try a mountable outdoor heater instead
Most outdoor heaters are big and sturdy so they don't get blown over, but they take up a lot of space. To maximize on the space you have in your garden for storage, a mountable heater may be the one for you. These patio heaters can be mounted onto a wall or ceiling which leaves the ground free for outdoor storage space, while still keeping you warm in the evening. These heaters work just as well as conventional patio heaters without needing to become a focal point of your garden, or rather, another thing to trip over if it's already cluttered.