How To Make Your Garden A Boho Paradise: Boho Garden Decor Ideas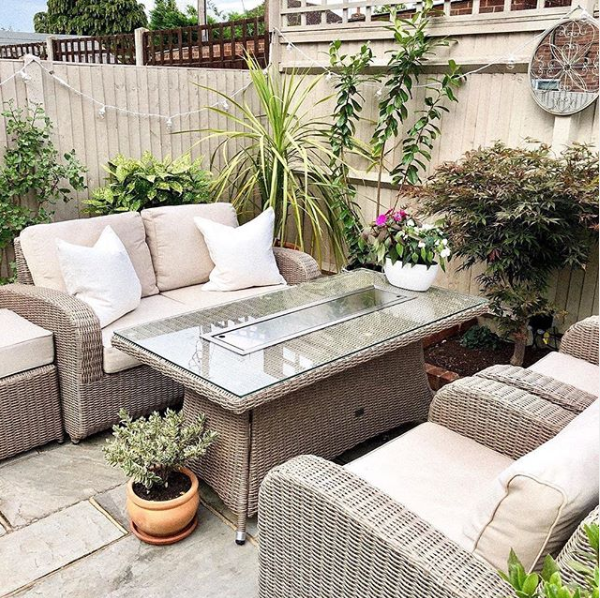 Boho gardens feel like a little piece of paradise. The unique style relies on creating a peaceful atmosphere with standout decor pieces, comfortable furniture, and funky patterns. With a few smart boho garden decor ideas, pretty much any garden can become a boho paradise. So how do you create a boho garden? And what exactly is this trend about?
What is bohemian garden decor?
Bohemian garden decor, which is often shorted to boho, is an eclectic style that is drawn from multiple cultures, and the free spirits and hippies of the past for inspiration. There are no harsh rules, so when it comes to describing it, it's easier to say what it's not than what it is. Boho decor is not minimalist, or about matching things together perfectly or symmetry. Boho isn't a particularly elegant style, but it's beautiful in its own way. Boho is colourful, cosy, is rough around the edges. The style is popular for indoor decor, as well as on clothing and jewellery, but boho gardens, in particular, feel like being on a tropical island.
When it comes to creating backyard bohemian paradise, it's all about relying on warm colours, funky contrasting patterns, and interesting decor.
How to make your garden a boho paradise
Pick a base colour
The first step in creating a boho garden is to think about colour. To avoid your garden looking a bit too random, you can pick a base colour to start off your boho garden. This style generally relies on warm tones such as deep browns, but there's nothing preventing you from picking a light cream or white base either. Your dining set and sofa should have the same colour rattan and base cushions. If you need storage boxes, these should be the same colour as the dining set and sofa, and the same should apply for planters.
Add more colours and patterns
The next step in how to create a boho garden is to make it more colourful.
Once you've picked a base colour, you can add brighter tones to your decor. For example, you can add patterned scatter cushions to your sofa. Boho is all about being unique and unbalanced, which means you don't have to stick to one colour or design when it comes to cushions. You can combine dark grey patterns with striking reds, or mix blues with pastel pinks. A patterned outdoor rug will go a long way, as will wall tapestries.
You can pick a colour scheme if you don't want your boho garden paradise to look too chaotic. For example, a brown base with touches of warm reds and oranges, or a cream base with hints of turquoise and light green.
Be Green
Boho garden decor is largely inspired by nature, so it's a good idea to have bright flowering plants in our garden. Whether you prefer real flowers or synthetic, bright sunflowers, petunia's, and geraniums will add an exotic feel to your garden. More tropical-looking plants such as cacti, succulents, and monstera deliciosa, are study yet stunning plants to enhance your boho-inspired garden. As far as a backyard bohemian paradise goes, the more plants the better.
Expanding from putting lush greenery in planters, some hanging plants will go a long way. In a lot of regards, boho is very much a DIY endeavour. You can upcycle some small flower pots into hanging decor by braiding thick yarn underneath them like a net. These can be hung from a railing. Lobelia and begonias are stunning hanging plants, that will add even more colour to your bohemian-inspired garden.
If you already have ivy or trees in your garden, then half the work in making a green backyard bohemian paradise has already been done for you! As boho style is uneven and rough around the edges, your grass doesn't need to be perfectly cut and even, but you probably shouldn't let it become unruly either!
Look for quirky decor
One of the things boho is more recognised for is its quirky patterns and decor. Bohemian decorations are mostly inspired by animals, which is why it's common to see little elephant ornaments or pictures of deer.
As this isn't a minimalist style, you can let yourself go when shopping for decor. Another one of the most popular boho garden ideas is to hang big dream catchers around the garden.
Mandalas, in particular, are among the more common patterns when it comes to boho garden decor ideas. Think mandala rugs, cushions, and tapestries.


If you're unsure of what boho garden decor you'd like, a simple hack to add some pattern and colour, is to opt for bright flower pots.
Add some cosy lighting
Boho garden decor is all about creating a warm cosy atmosphere. As the concept is inspired by free spirits, you should be creating a space you'd like to sit out in at night. This is why lighting is important in how to create a boho garden.
Boho tends to avoid cool sterile lights and lamps, and leans towards fairy lights, chains, and candles. A lamp or a LED light might not fit the boho aesthetic, but hanging lights are perfect! To add some heat and more light, a circular fire pit is another one of these boho garden ideas worth implementing. A fire pit in the heart of your sofa set gives off the rustic campfire feeling that boho tries to emanate. Go all out and start toasting some marshmallows!
Lanterns are another popular aspect of boho garden decor, and also serve to add more light to your backyard bohemian paradise. Stained glass lanterns or ones with intricate patterns are a perfect addition to this look.
Get Comfortable
The key step in how to create a boho garden is to create a comfortable welcoming space. If you want to make your garden feel like paradise, then you need garden decor you can sink into! Think comfy sofas with plenty of cushions, and outdoor beanbags!
Swing chairs are another comfy addition to these boho garden ideas, as is a day bed or a sunlounger you can relax on. With a drinks tray placed right next to your lounger, you'll feel like you're on holidays in your own backyard!