The Art of Illuminating your space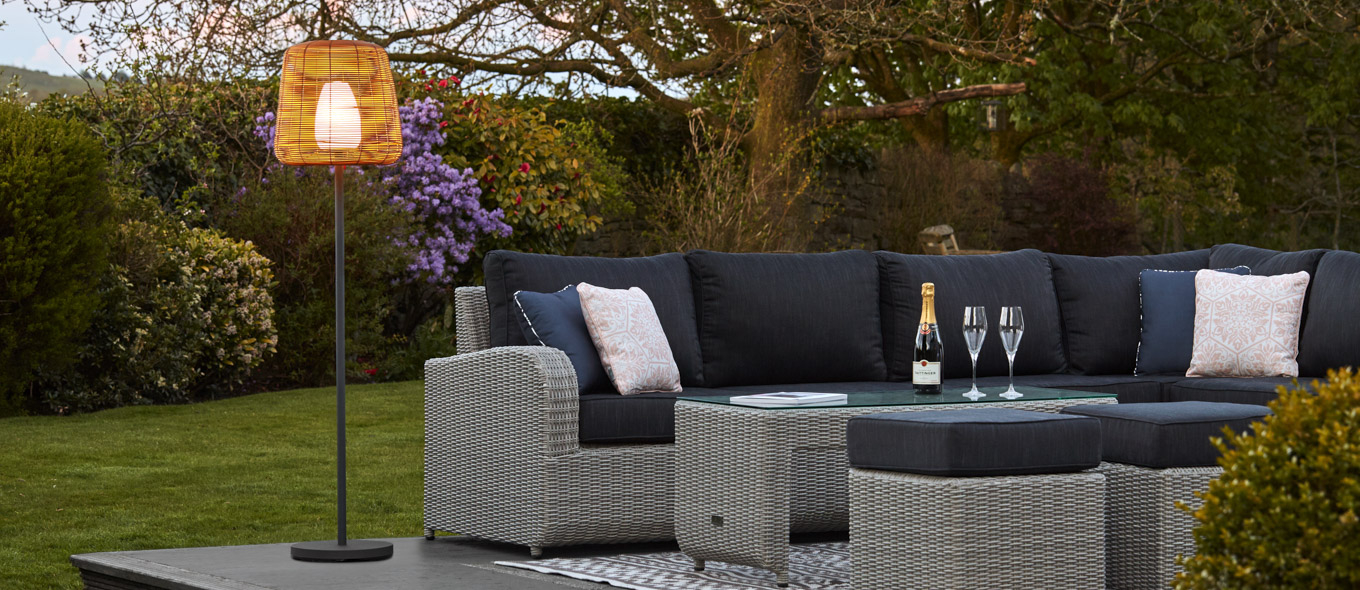 Lighting is a brilliant way to enhance the extension of your home and can help transform it's aesthetic altogether without requiring a massive uphaul or great expenditure. Here at Moda, we offer a vast selection of contemporary outdoor electronics designed to complement both gardens and conservatories. From hanging lights to floor lamps, we guarantee you'll be able to find something to suit your space no matter how grand or demure it happens to be. We've listed a few ideas below to help get you inspired to make the most of outdoor living, not just this season but all year round.
Plan ahead what areas you use the most and where you need more light so that you can use your preferred lighting system in the most efficient and practical manner. You can use illuminations to draw attention to your favourite garden features, for example to soften the edges of your house or enhance its architecture, to guide people through your garden by using illuminated paths or to draw attention to the garden landscape or any art you may have on display.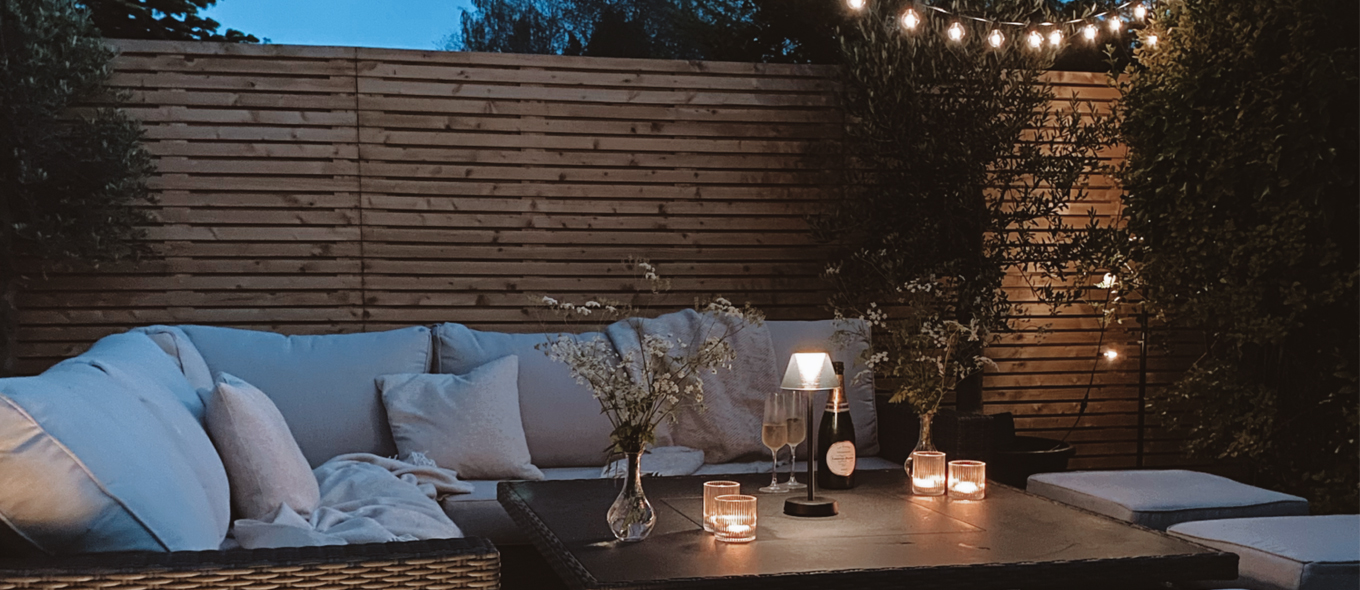 Set the scene with outdoor hanging lights. Go outside and look up. If your Moda furniture is in a more sheltered area, see that as your outdoor spaces' answer to a ceiling, the perfect spot to hang up our hanging lights. Our hanging lights don't have to be used for sheltered areas, be sure to add them around the edge of the garden, or even across your set like our ambassador Finnerz has done, they can create a warm and cosy atmosphere, whilst still creating a whole new experience in your garden. Here's some ideas that work perfectly with our range of hanging lights;
Create a memorable cinema experience with a big screen, popcorn and your favourite tipple and enjoy it under a canopy adorned with our hanging lights to create a starry night effect. Bask in a balmy summer evening and unwind with your favourite music videos and allow the soft effects of the Hawaii to take you all the way from sunset through to when the moon makes an appearance. Relax beneath the Fantasy Star during the shorter evenings and gather the family around to watch a Christmas classic, be sure to prepare your own mulled wine for the occasion and pair it with delicious nibbles like roasted chestnuts and mince pies come Christmas time.
Image below: Fantasy Cold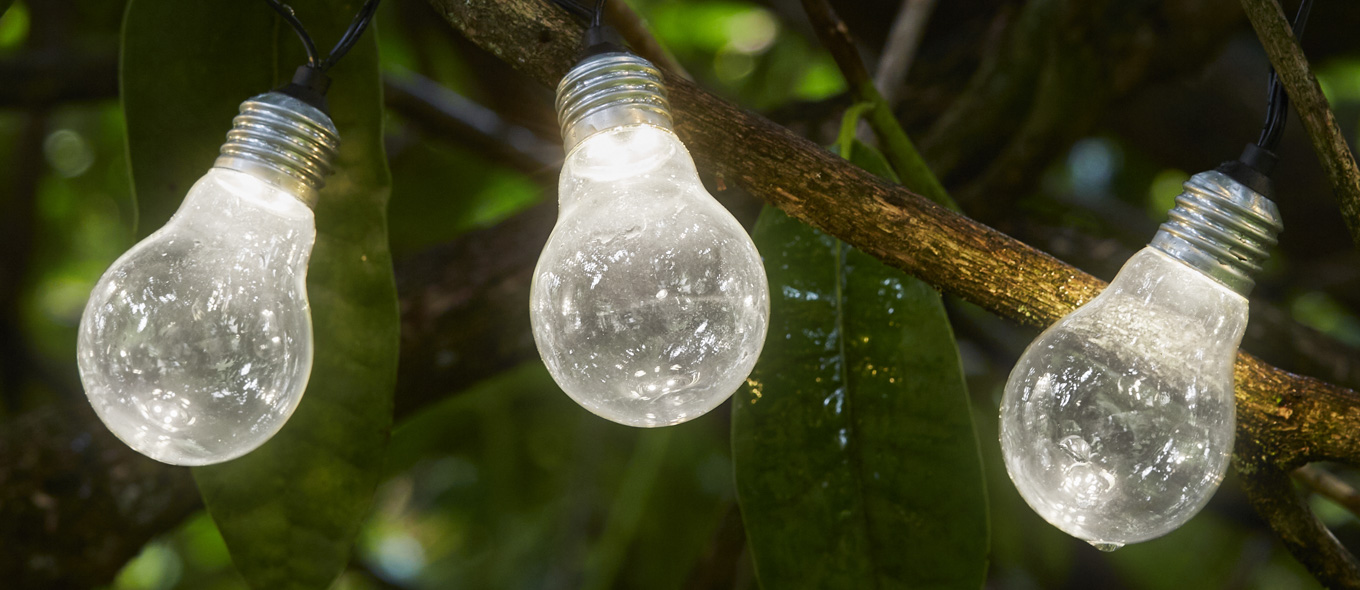 Mellow the mood with outdoor lamps. Never underestimate the classics of a simple outdoor lamp, if there was one rule for outdoor lighting design it would be to mirror what you see indoors. Following the same living room lamp mentalility, selecting floor or table lamps can truly create the at home atmosphere in your garden. From plug in lamps to solar lamps, Moda caters for every budget and taste. Table or floor lamps can also create an atmosphere by lighting the different levels of the garden, just like in your home.
Friends round for dinner? Dress the table with one of our decorative lamps like the Beverly. Not only is it practical offering a fair amount of light, but will offer a great aesthetic to your dining set, truly complimenting the space. With its subtle effect, the Beverly won't spoil the atmosphere but will simply enhance it.
Image below: Standy Mini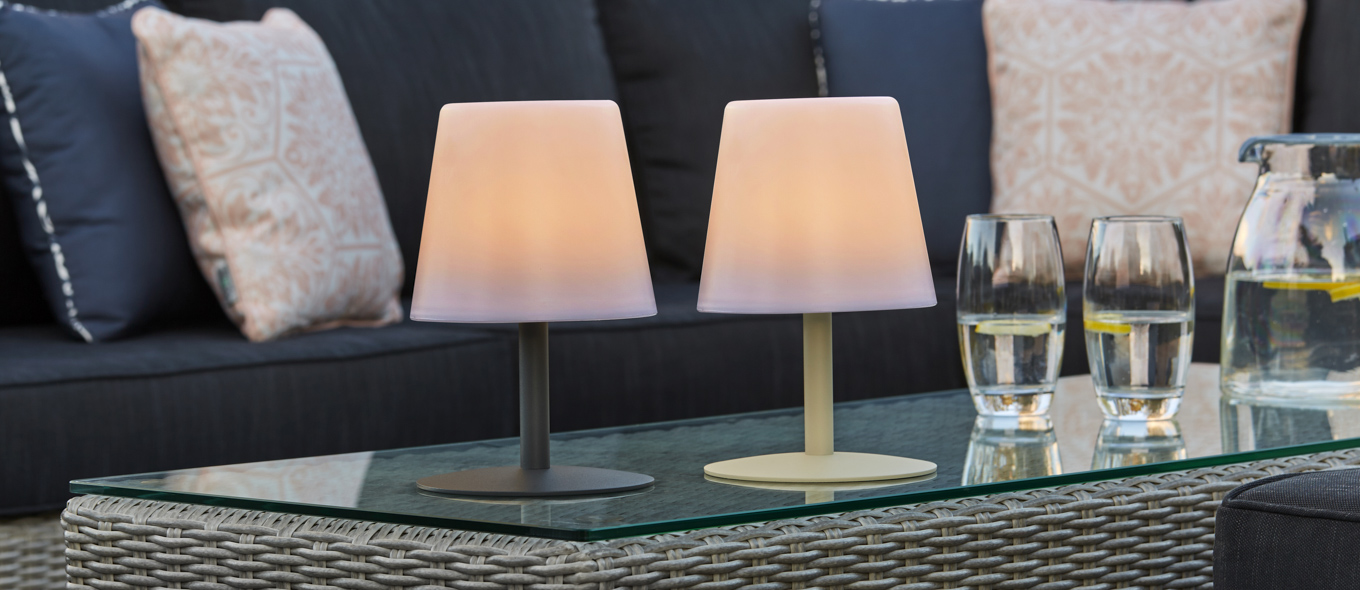 Add ambience with lantern style lighting. Lantern style lighting is a classical style that can be followed both indoors and outdoors, whilst it can hardly be called a trend, if you're looking to invest in your space, these styles will keep your outdoor space looking stylish for years to come, going perfectly hand in hand with our 7 year guarantee furniture. Creating different looks for different seasons is easy to do with a Lantern style light, simply switching out your garden accessories to create an illuminated evening in the colder seasons, or just add to the atmosphere in the summer.
Moda's options for lantern style lights are available in Solar meaning that they are more practical, economical and enviromentally friendly as they will soak up the sunlight during the day and begin to light up your evening as the day draws to a close. Our Jazz Solar light is ideal for highlighting the features of your garden whilst creating a relaxed atmosphere for when you're enjoying your Moda set.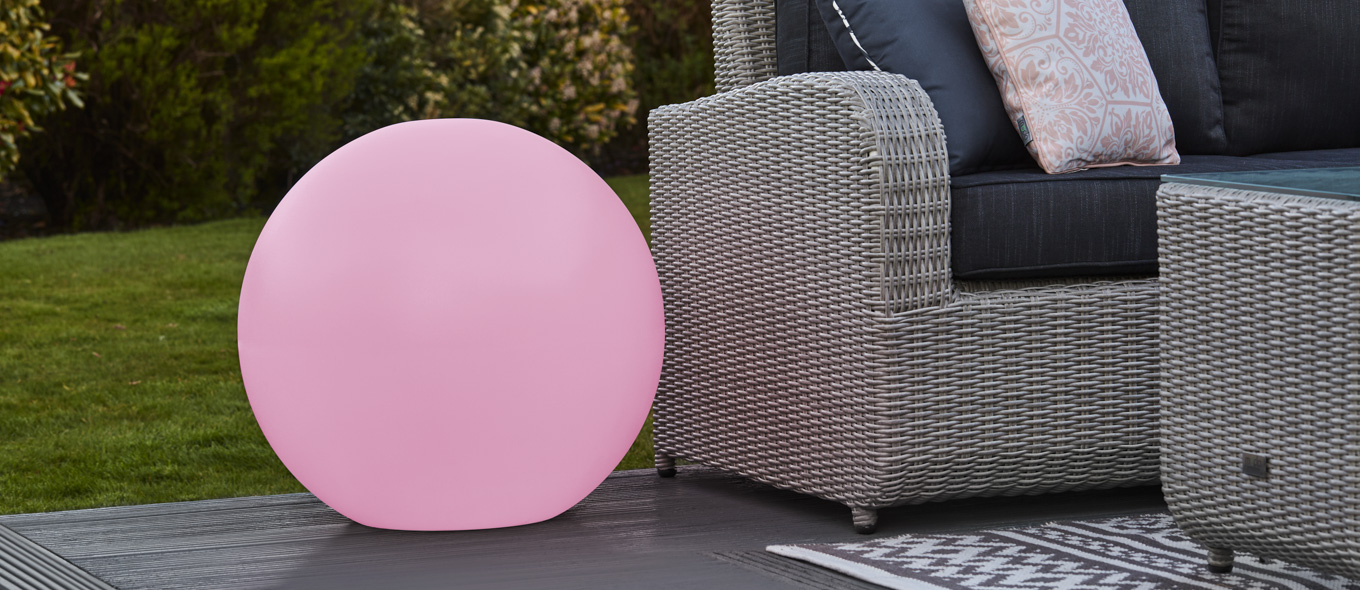 Entertain in style with colour changing lights. If you're lucky enough to own a pool, we promise our Bobby lights (above image) will look right at home beside it. They'll look cool during the day and pop at night creating real vacay vibes as you party on into the early hours alongside your alfresco guests. Our Bobbys are chargeable and when full-powered, will last for approximately eight hours so there's no danger of your evening celebrations being cut short.
Our
Lucy
speaker lights up and plays! It's quite the sought after accessory and will add an extra level to those long-awaited social gatherings. Simply connect it to your phone via Bluetooth and let the Lucy do the rest. With an impressive volume and lighting system, Lucy guarantees to get the party started, all year round.
A standing floor lamp is the perfect choice if you're requiring just a hint of light. Our
Tamboury
switches between a subtle warm effect and funky bright colours transforming a humble dinner setting into a party one. Again, these lights are chargeable and work with a remote control so you don't even have to leave your seat to change it up!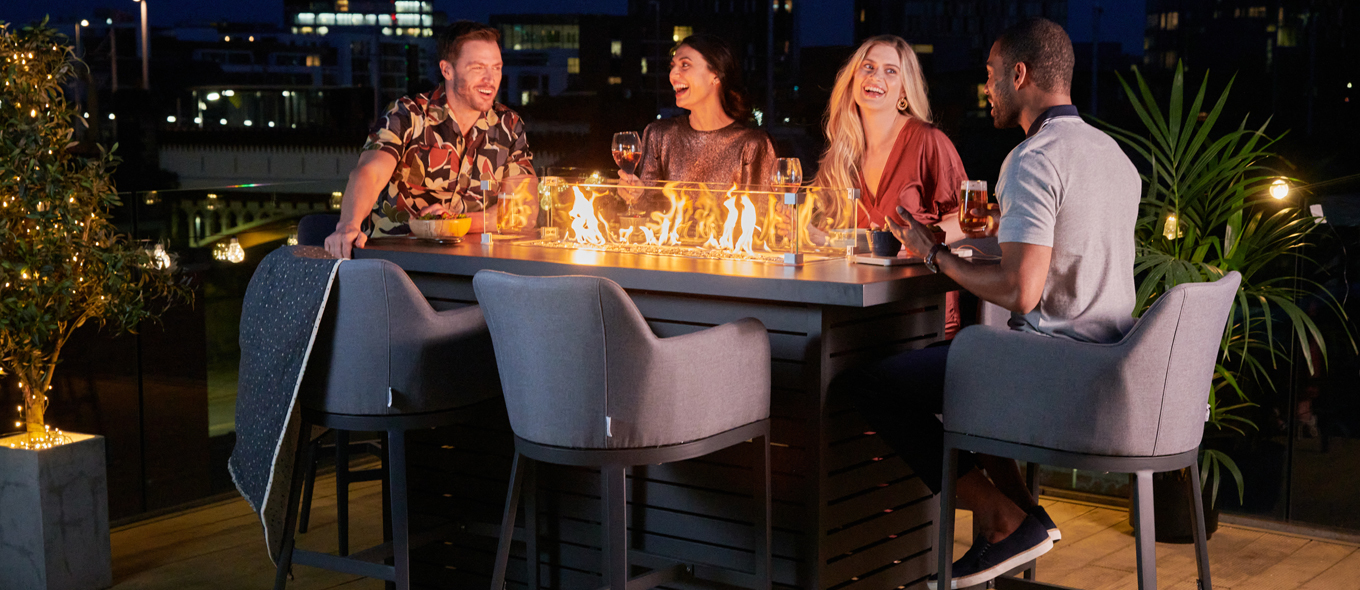 Get your glow on with an outdoor fire pit. Moda's wide range of
fire pits
mean that your outside lighting doesn't always need to come from a bulb. A fire pit is quickly becoming a popular garden accessory, it will quickly become the centre of attention when the evening comes. Not only are fire pits incredibly practical as they provide a warmer glow whilst also keeping you toasty on the later nights or chilly autumn evenings, they fit perfectly with garden furniture and here at Moda, we provide just that exactly. Nothing quite beats the light that spits out of a fire's embers, after all, not all light sources are suitable for marshmallow toasting either.
Moda offers a mixture of classic and contemporary designs, mains plugins, solar and rechargeable options; there really is something for everyone. Treat your outdoors to something special this year by shopping Moda's exclusive lighting ranges
here
.