Outdoor Heater Buying Guide: What to Know Before Buying a Patio Heater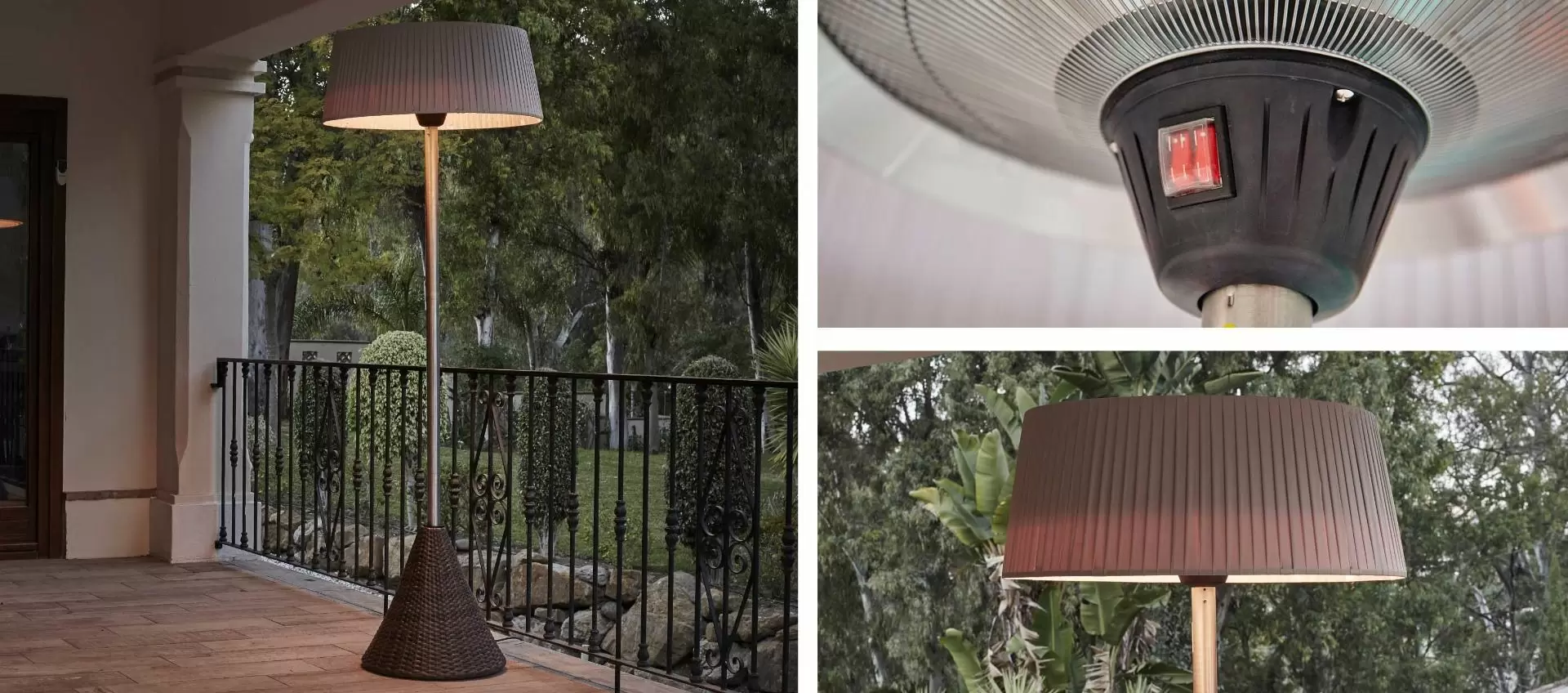 Outdoor heaters are not just a welcome source of warmth for long summer nights in your back garden, but they can add more character to your garden too. So what do you need to know before buying an outdoor heater? There are a lot of considerations to take into account when it comes to buying an outdoor heater. Fortunately, this outdoor heater buying guide has the answers.
Outdoor heaters, also known as patio heaters, are a great addition to your garden as they're both practical and add aesthetic value. However, you can't just buy any heater. You need to take style, fuel type, and safety into account.
Outdoor Heater Styles
For many customers looking for an outdoor heater buying guide, their first priority is the look. Which is understandable, why spend money creating your dream garden only to get an ugly heater, even if it is practical? The style also plays a role in how suited it is to the garden, for example, is it a small tabletop heater for a garden with limited space or a large standalone one?
Fire Pits
Fire pits are one of the most timeless kinds of patio heaters. Fire pits are safer than the humble campfire as they're designed to keep the fire contained and from spreading.
A fire pit can be a focal point of your garden, for example, the fire pit is the centerpiece of the ARC 32 set. With this set, the fire is contained in a ceramic box which gives a chic feel to this pit. Whereas the firepit table can double as a drinks cooler and as a barbeque.
Tabletop heaters
Tabletop heaters are often small heaters that come in a few different looks. The firepit table doubles as a tabletop heater, as the two small grids can be removed from the table when not in use. Other kinds of tabletop heaters are small versions of traditional lamp heaters, that usually fall under 3-foot tall.
Standalone Heaters
Standalone heaters are arguably the most recognizable type of patio heater. These tall, thin heaters tend to be found spaced around the garden in patios, decks, or corners. For example, a stylish pyramid heater offers warmth in every direction while this lamp style outdoor heater can blend in with the rest of the garden's decor.
Mountable heaters
Not all outdoor heaters need to stand on a table or even stand up by themselves. For those tight on space, the mountable patio heater may be the perfect choice on this outdoor heater buying guide. Mountable heaters can be attached to a wall or the ceiling. However, many mountable outdoor heaters come with a stand so it can double as a standalone.
Fuel types for outdoor heaters
Unfortunately, there's no point in getting the most beautiful patio heater on this outdoor heater buying guide, if you don't have the fuel to work it. So what fuel source do outdoor heaters need?
Electric outdoor heaters
An electric outdoor heater needs to be plugged into work. While this means that it quickly heats up, it means the heater needs to be placed near an outlet. You can run an extension cord through the garden if you would like your eclectic heater to be a centerpiece, rather than in a corner by a socket. However, the extension cord can run into some health and safety issues.
These heaters have a warm bulb that heats up. As many customers like the flame effect of other models, not everyone will like the look of this kind of heater.
Gas outdoor heaters
There are two types of gas heaters' natural gas, and propane gas heaters.
Natural gas heaters need to be attached to a natural gas line. They can be less expensive than electric or propane gas heaters, but you may need a plumber to help set this kind of heater up. These kinds of heaters are very efficient, require little maintenance, and have the flame-effect that many customers want.
Propane gas heaters need to be attached to a gas tank and tend not to require any additional help to set up, unlike a natural gas heater. The big downside compared to a natural gas heater, is that they require a bit more maintenance as the gas tank needs to be replaced once it runs out.
Charcoal fire pits

Dining Set with Charcoal firepit

A unique selling point of a fire pit is that it doesn't need to be plugged into an outlet or hooked up to a gas tank. Fire pits can sit anywhere in your garden as their main fuel source is charcoal. Charcoal firepits are easy to operate but require a good clean-up after use. Some fire pits are also suitable for burning wood or a mixture of wood and charcoal.
Safety Considerations
The most important point on this outdoor heater buying guide is health and safety considerations. It's all well and good to have a beautiful patio heater but what do you do if it's a health hazard? So what do you need to know before buying an outdoor heater to ensure you're not putting anyone at risk?
Buy from a reputable seller
Outdoor heaters can be very expensive, but you're paying for quality. As many styles of heaters use gas and fire, it's too dangerous to skimp out. If the cost of a heater is too good to be true, then it probably is. Read the reviews on sites such as Trustpilot to inform yourself on what you need to know before buying an outdoor heater, and to find out which brands you can trust. This can also help you narrow down the style of heater you want as many customers post photos and share honest accounts about the product.
With over 4,000 reviews and a rating of 4.8 out of 5 on Trustpilot, you don't have to take it from us, but from Moda Furnishings customers that we offer high-quality patio heaters.
Place it in the right area
Although some heaters may have limited placement options such as electrics which need to be near an outlet, placement is very important. In an unsheltered area of the garden, a fire pit will easily be blown out. Likewise, an area of the garden that is very open and exposed to the elements can damage the heater and shorten its lifespan.
The general rule of thumb is that patio heaters should be at least one meter away from anything flammable. Open flames should be well out of reach of children and pets, and they should be placed on a flat surface so they're not easily knocked over.
Before buying an outdoor heater, have a few strong ideas for where you intend on placing it.
Read and follow the instructions thoroughly
It's very common for instruction manuals for most products to be disregarded without a glance. However, you could miss out on vital care instructions if you don't read the manual. As each kind of patio heater runs on a different kind of fuel, and are different sizes, there isn't a one-size-fits-all approach to setting up and maintaining patio heaters. This is why it's important to read the instruction manual as it's tailored to your exact model.
Maintain the heater regularly
How much work goes into maintaining a heater depends on the model you get, but before you buy an outdoor heater, you should be prepared to have to maintain it regularly. Maintenance tasks for patio heaters include shielding it from the elements in the winter months, or moving it into storage if it won't be used for a while. Maintenance also includes taking it apart to clean debris inside and cleaning the outside too. Use the time reassembling the heater to check for any broken parts.
In Short
Patio heaters are both a practical and beautiful addition to your garden but there's a lot of things to know before buying a garden heater. The different styles of garden heater; whether it's a fire pit or standalone heater and the fuel needed for it to work are important considerations. The main things you should be keeping in mind before buying a garden heater and choosing which model to purchase is if you have enough space and ability to maintain the heater of choice.