The Pros & Cons of Super Cheap Rattan Furniture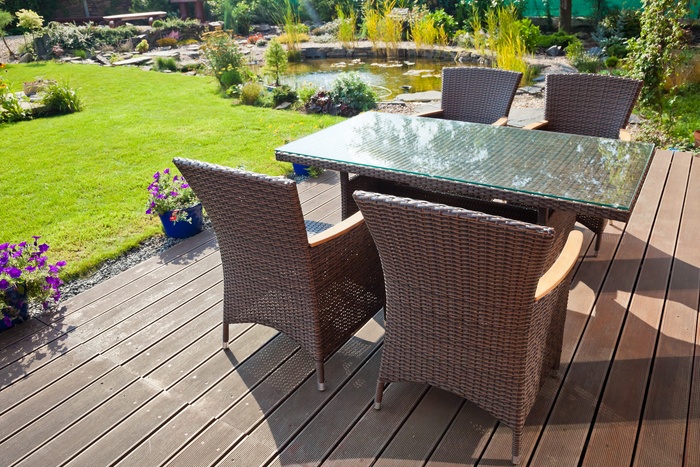 Beautiful, practical, waterproof – rattan furniture is a popular choice for many homes and gardens. But if you've been looking to buy your new rattan furniture set online, you may well have felt overwhelmed by the amount of choice out there. From different colours and upholstery, to varying shapes and styles, it seems there are a lot of factors to consider when choosing your perfect set.
To make matters even more confusing, the range of prices online is huge. You might be wondering what the differences are between a four-piece set that costs between £100 and £500, and one that costs over £1,000. Luckily, we've put together a guide to help you navigate the pros and cons of super cheap rattan furniture – so you can make sure you're buying a set that not only looks beautiful, but will also stand the test of time.
What are the pros of buying cheap rattan furniture?
Upfront cost - The most obvious benefit of buying cheap rattan furniture is the fact that it's, well, cheap. Nobody wants to spend more money than they need to, especially if they're not in a position to commit to an expensive purchase. Super cheap rattan furniture sets make the rattan trend accessible to people of all budgets, ensuring that anyone can enjoy the look and feel of these products in their garden.
This is ideal for renters who don't necessarily want to take their furniture from home to home when they move. So, if you're after a temporary garden solution and don't envision your rattan items staying in your life for years, a super cheap set could be a sensible option for you.
What are the cons of buying cheap rattan furniture?
Long-term cost - Although buying cheap rattan garden furniture will mean that you spend less money upfront, the long-term cost of a cheaper set will often work out to be surprisingly expensive. Remember that rattan furniture has a lot to contend with – not only does it encounter the usual wear and tear that we'd expect a table, chair, or sofa to put up with, but it also has to do so in the great outdoors.

From sun damage and high temperatures to rain showers and snow, changing weather conditions are almost certain to reduce the lifespan of a cheap rattan set. While a lower price point doesn't necessarily mean that the furniture has been poorly constructed, it probably does mean that the materials that have been used are lower quality, and therefore less durable. This means you may end up needing to replace your cheap rattan furniture not long after buying it.
Lower quality materials - For a set that will last well, whatever the weather, make sure that you check the materials that have been used to build both the rattan and the framework. At Moda Furnishings, we only ever use commercial-grade aluminium for the framework of our furniture, with fully welded joints and multiple coatings of high quality, all-weather paint. This ensures that the frame will be resistant to rust in even the wettest conditions.

In fact, the walls of our frames are on average 25% thicker than those on most other outdoor furniture. Many cheap sets use steel for the framework. But beware – this could significantly lessen the longevity of the structure. Steel isn't rust-proof, so it's likely to weaken quickly and could even break.

The material of your cushions is also an important consideration. We use acrylic fabrics that are fully compliant with the UK's fireproof regulations, so you can use them again and again without any worries. Cushions starting to look a bit stained after one too many family BBQs? Our fabrics are also machine-washable, making them a low-maintenance choice for your garden furniture.


Uncomfortable - Because rattan furniture needs to be solid enough to weather the conditions of your patio or garden, it's not necessarily the comfiest seating around. The comfort comes from the cushions or padding that's added on top of the frame – and if these haven't been designed with ergonomics in mind, you're unlikely to want to spend hours relaxing on your new furniture.

When choosing your rattan set, remember that the price covers not just the cost of the raw materials, but also the design process. The rattan furniture at Moda has been crafted with close attention to detail, and that includes its cushioning and upholstery.

For the cushions on our garden seats and sofas, we like to use dual-density foam. This type of foam is often also used in mattresses and protective footwear, thanks to its high level of support. Our cushions are high-backed and deeply filled to provide ultimate comfort, so you can sit back safe in the knowledge that you won't have to move for hours if you don't want to.
Poor guarantee - Another drawback to cheap rattan garden furniture is the fact that you're unlikely to get a good guarantee. Ultimately, this is because the manufacturers and retailers know that the set probably isn't going to last for a long time. While paying as little as £100 or £200 could seem a great bargain at first, you won't be protected if the furniture ends up breaking shortly after you make your purchase – whether it's from weather damage, loose weave, or even careless delivery.

At Moda Furnishings, we pride ourselves on the quality of our furniture. We're so confident in the design, performance, and durability of our rattan products that we offer a seven year guarantee. This covers both the UV-resistant weave and the structural framework, so in the unusual event that you have a question about your furniture, there's no need to worry. We're here to help, with a sales team that's ready to talk to you seven days a week.
Self-assembly - If you're not a fan of self-assembly, cheap rattan garden furniture is not for you. Many of the low-cost options will need to be put together. And to make matters worse, you will probably need two people.

You must identify the parts, make sure nothing is missing, interpret the instructions, build everything upside down, avoid scratches… The list goes on!

That's a lot of time wasted, which could be spent relaxing.

Fortunately, you can avoid these issues. Luxury rattan comes ready assembled. You don't have to worry about DIY construction, hunting for missing parts or wobbly legs. Best of all, you don't have the added stress of any potential safety concerns, such as a poorly made chair toppling over.
Stylish, long-lasting rattan furniture
Rather than focusing on cheap rattan furniture, the team at Moda Furnishings is dedicated to creating rattan that's comfortable, looks amazing and stands the test of time. From sun loungers and sofas to dining sets and accessories, we offer a wide variety of stunning rattan furniture, all made to the highest standards with a seven-year guarantee.
Take a look at our full range of rattan furniture today to see the difference for yourself.