Halo 6D - U Shaped Angled Sofa with Charcoal Fire Pit Coffee Table
Rated Excellent
on Rest assured
-
we provide 7 year Guarantee
No quibble
-
30 Day Money Back Guarantee
Want to see it in action?
-
Visit our show room
Halo 6D - U Shaped Angled Sofa with Charcoal Fire Pit Coffee Table
Rated Excellent
on
Rest assured
-
we provide 7 year Guarantee
No quibble
-
30 Day Money Back Guarantee
Want to see it in action?
-
Visit our show room
The modular Halo Collection is the perfect blend of craftsmanship, design, comfort and style. This set has a unique charcoal fire pit that is set into a rattan coffee table. This has several unique features and is not only a coffee table but can also be used as a drinks cooler, fire pit or barbeque. The centre pit can be used as an ice bucket or alternatively can be used for barbeque cooking. When the evening draws in and warmth maybe required, simply place the ember guard over the fire to use as a fire pit. The luxury Halo is extremely practical and can be configured into multiple layouts(see images), it can also be arranged to suit a left hand or right hand seating configuration. When you have chosen the perfect position and layout of your furniture, simply clip together to ensure no movement. If you want to just put your feet up and relax, adjust the flip-up base on the end pieces of your sofa into your ideal position and transform your sofa into a comfortable lounger. The high back, wider armrests, deep filled cushions with dual-density foam ensures that not only do you get a luxury sofa setting but you also benefit from the ultimate in comfort and support.
8mm toughened safety glass
Machine Washable fabric
All weather
Visit our showrooms
Free Delivery
7 year guarantee
UV Resistant (weave)
5 colour weaves
WHY MODA
We are the UK's leading Rattan Garden Specialist
We are rated 9.8/10 'Excellent' from thousands of positive 5 star reviews for product and service on Trustpilot
All of our products are designed, manufactured, warehoused and delivered by Moda
Our UK based call centre will help you design the perfect set for your space and are on hand from 9am - 9pm
All of our products are designed in the UK by our innovative design team
Our delivery drivers are fully trained experts in the assembly and placement of your furniture
All of our products meet UK standards for safety requirements.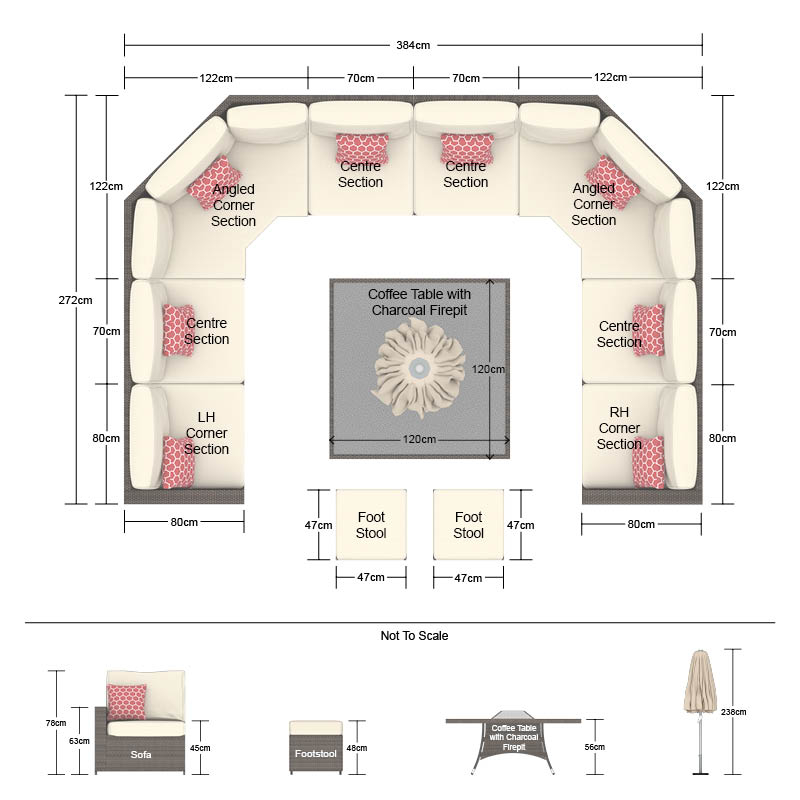 Can furniture be left outside all year round?
All of our rattan garden furniture range is manufactured to be left outside all year round in any weather conditions, however, we recommend that any fabrics be kept in dry storage when not in use.
When can I expect delivery?
Delivery is guaranteed within five days on a pre booked date, subject to stock availability. However if for any reason you require it sooner, then this can be arranged, please talk with our sales staff. In the very unlikely event that your item is out of stock, we can usually ship within a 14 day period.
Can cushions be washed?
All of our piped cushion covers are zipped and therefore can be easily removed for machine washing.
Do products fade in sunlight?
All of our products are UV protected to ensure they don't fade in sunlight, resulting in years of enjoyment.
How many different weaves are there?
All of our products are available in four different weaves, this is so several products from the range can be purchased and placed together.
How do I care for my furniture?
All of our furniture is practically maintenance free, however if the product should get dirty, it can be easily cleaned off using a sponge or power washer.
Is furniture fully assembled?
All of our furniture is fully assembled apart from the table bases; these are easily assembled in approx 5 minutes.
Is the glass safe?
Yes all glass on all products is 8mm toughened safety glass.
COMPLEMENT YOUR SET
We have a huge range of beautiful accessories to personalise your set and add that finishing touch
Customer reviews
Take a look at what people had to say after using Moda Furnishings.
"Over 3000 5 star reviews - Rated 4.9/5 Excellent"
Meet the goodwins
"I found that Moda have the best quality and selection, Moda have a modular system so I was able to get something that perfectly suited my outdoor space."
Why choose Moda?
At Moda we pride ourselves in the quality what we provide. Here are some reasons that we believe we excel above our competition.
Luxury furniture, made to perfection
Our furniture is built using only the best materials available. These include rustproof aluminium frames, dual density foams and high quality weave. The furniture is then assembled by our own team of highly skilled artisans.
Premium Quality Fabric
Soft feel fabric in 3 colours
Zipped, removable machine washable fabric
Dual Density Foam
All Moda furnishings are UK fireproof regulated
RESISTANT TO:
Design for comfort, durability and functionality
Our objective is to design and create innovative, durable furniture for the outdoors with the comfort of indoor furniture. We do this whlist retaining style and functionality.
Frame Structure
Rustproof Commercial Grade Aluminium
Fully Assembled thick durable frame and construction stable
Weather resistant powder coated finish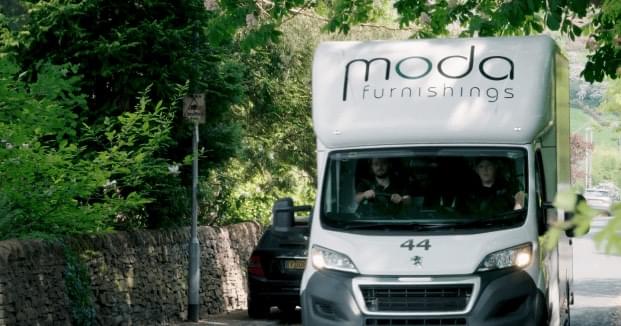 From design to delivery
The Moda experience doesn't stop when you place your order. Our two-man team ensure a courteous service every time.

Rated 'Excellent' from over 3000 of Customer Reviews
Visit our showrooms
Visit one of our showrooms to see the Moda quality in person. Come in anytime or book an appointment to come in and speak to us - we're here to help.
At Moda we want you to be delighted with your new product and our service.
Here are some of the benefits Moda customers enjoy: